What does high staff turnover indicate and how do we fix it?
What does a high turnover rate mean to your organisation? Initially, we could imagine a toxic workplace culture, people walking out the front door, dissatisfied employees, poor compensation, higher costs etc. We could think the business is bleeding money, needs to improve employee retention strategies, enhance the culture, fix leaders and train people to work together more effectively. Dramatic this may be, however to stem a high turnover rate, we need to firstly understand what is a high turnover rate and recognise that turnover can also be positive.
Read this blog post if you have a lot of people leaving your organisation and want to know how to turn it around.
How do we measure turnover rates?
One way to calculate employee turnover is to take the number of employees leaving the business presented as a percentage of the total number of employees. This could be applied to a departmental or team level and may be calculated quarterly or as a rolling average.
Turnover is difficult to measure accurately as total employee numbers could vary throughout the year. Constant turnover versus a seasonal turnover also muddies the water somewhat when working out turnover rates. Particularly difficult is categorising the types of employee turnover rates so an organisation can identify where they need to focus efforts to reduce employee turnover.
Types of turnover
Turnover refers to employees leaving a business. Employees will leave for a variety of reasons, categorised as follows:
Voluntary staff turnover: An individual leaves employment through their own choice and or reason
Involuntary turnover: An individual leaves employment through a choice and or reason driven by a company decision
Retirement turnover: An individual finishes their working life
Transfer turnover: An individual changes employment by transferring to another department
Retirement turnover
Retirement turnover is of less of concern to a business as this does not necessarily reflect the organisation, its culture, processes and people. Mind you, if your employee demographic is all of retirement age right now, you may be concerned about a mass exodus in the future!
Transfer turnover
Transfer turnover, where an employee leaves to move to a different department or area of the company, potentially indicates a desire to develop an individual or recognition the person's talents are useful elsewhere. The dark side of this type of employee turnover is people transferring out of a department to get away from managers, people or lack of support. I call this people-related transfer employee turnover.
Involuntary turnover
Involuntary turnover, where an employee is asked to leave, may indicate issues with the recruitment and selection process, incorrectly identifying new hires for employment. For example, if the new hires are not a good fit for the job or the culture of the business then the process needs to change. I call this process related involuntary employee turnover.
If redundancies have occurred due to financial stress then this is a different matter. The company is in survival mode and needs to cut expenses to ensure the company survives. Alternatively, redundancies may occur when restructures are undertaken by the company in order to gain efficiencies or position itself for the future. This type of transformation may result in the loss of good employees leaving due to a high level of uncertainty about security of their role.
Voluntary turnover
A high employee turnover rate that reflects voluntary turnover may not always be cause for concern to the business. Naturally, people leave work for a variety of reasons such as retirement, family, moving overseas, change in career, or travel. All businesses expect this to a degree. Consider the impact of COVID on people in cities, over the past two years. More and more people have quit the city life for a less stressful rural setting, potentially free of COVID with greater wellbeing to be had.
However if employees leave for other reasons such as the following:
Poor or bad managers
The culture is negative or toxic
Little to no feedback or no employee recognition
Poor work/ life balance
Poor job satisfaction levels
Overworked employees or burnt out
My team mates are not supportive
No opportunity for growth or career development opportunities
Wanting more money or a good salary and/or wanting better benefits
Better career path
Personal reasons
Then this type of voluntary employee turnover is of concern to a business. It suggests disgruntled people who want out of a negative work environment. As above I call this people-related voluntary employee turnover.
Employee turnover rates
Good employee turnover rate
Firstly, it is important to realise some turnover in a company is normal and allows for injection of new skills, knowledge, attitudes, styles and thinking. Imagine your company with no turnover and people doing the same thing day in day out. In this way your company could soon become irrelevant in a market that asks more and more in terms of products, services, customer support, price and availability. New people potentially equates to new ideas and agility for the business.
High employee turnover
As noted above, people related transfer and people or process related employee turnover is a concern for companies. I'll call these types of turnover 'preventable turnover' for the sake of this article. Why? Because organisations can decrease turnover through concerted efforts which effectively help people flourish in the workplace and also improves the organisation's performance.
Turnover rate varies significantly from one industry to another and also in geographical areas. The Australian Bureau of Statistics (ABS) reports that 1.3 million people changed jobs during the year ending February 2022, equating to a job mobility rate of 9.5 per cent of all employed people changing jobs during the year. This includes all turnover and suggests 'preventable' turnover as a total across Australia will be less than this figure.
More specifically, the ABS has recently published their turnover indicator for the year up to August 2021 compared against the year up to August 2022. The turnover rate has significantly decreased in the past year. This may reflect the change in dynamics bought about by COVID and health requirements and restrictions placed on businesses.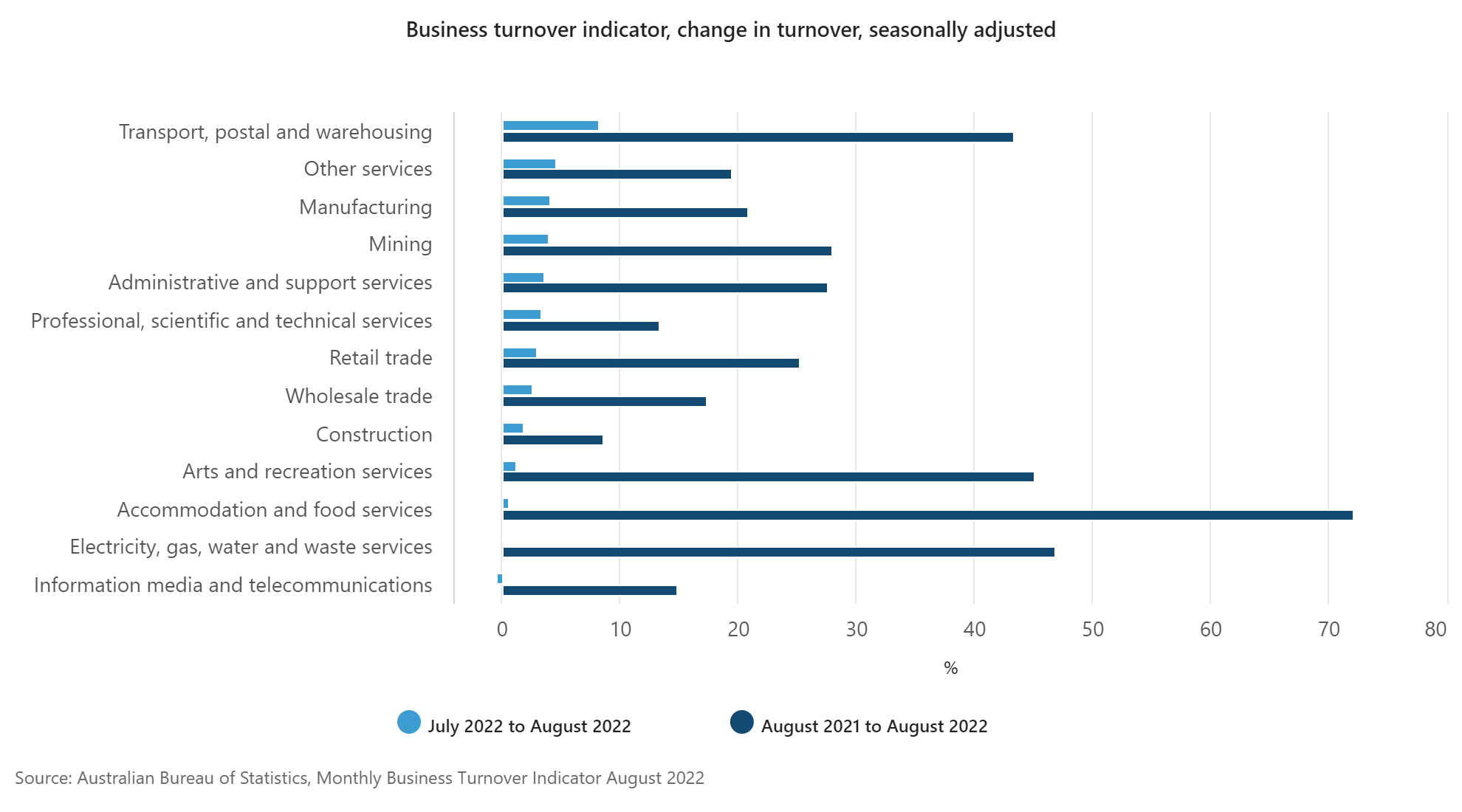 Although potentially unlikely, a high voluntary employee turnover rate can also be present in organisations that have a healthy and supportive workplace culture. Supportive workplace cultures can encourage personal career development, which may inadvertently lead to turnover when an employee seeks new challenges outside of the organisation. Regardless of whether the employee turnover rate is classed as voluntary or involuntary, the circumstances that have led to this outcome should be investigated.
What does turnover cost an organisation?
Preventable turnover can have many costs to an organisation in terms of workforce, productivity, financial and reputation. Typically, an increase in turnover rate affects morale, reduces employee experience and profitability, let alone the replacement costs for recruitment of new employees can be very expensive. Additionally, team effectiveness can be reduced, leave pay-outs can drain finances, increased time in hiring processes and training, disruptions to work flow, costs associated with induction and getting new employees 'up to speed' also need to be considered.
Turnover costs
Typically the following should be included when calculating costs of employee turnover rates:
Separation costs including hours lost in production
Administrative costs such the hourly costs of exit interviews and administration termination procedures
Advertising on job boards/sites/social networks
Job description preparation
Recruitment costs through agencies
Pre-employment psychometric assessments
Interviews including the number of interviews, number of interviewers, pre and post interview time
Time for background and reference checks
Site visits costs
Medical costs
New employee start up paperwork/processing
Training which may include external and internal providers as well as time spent on the job training
Induction costs
Referral bonuses
There are many turnover rate calculators available online that provide reasonable estimates of the cost of staff turnover. A quick search on the web and high voluntary turnover costs are estimated to range from 15% of a person's salary to 200%. While that indicates turnover is a significant expense, each company situation will be different.
How do we prevent employee turnover?
So people are leaving, but how do we improve employee retention strategies? One answer is that organisations need to create attractive propositions to ensure they retain employees. We want employees to flourish in the workplace not wither and build a higher turnover rate. Below are a few ideas on where to start reducing employee turnover.
Workplace Culture
Workplace culture has a strong correlation to employee engagement and employee happiness. A 2016 paper by Deloitte on "Culture vs. engagement" indicates a focus on developing your culture can bring up to 40% higher levels of retention.
For more information, see Measuring Employee Engagement vs Culture.
When people enjoy the culture of an organisation, employee satisfaction is higher and the labour turnover rate is less. Simply put, you can reduce employee turnover by developing a stronger, more positive culture.
Organisational culture is a major driver of employee engagement however can be an elusive concept. It can be defined as the shared beliefs, attitudes, and behavioural norms held by an organisation. It reflects the unspoken rituals and routines that flow within an organisation. It is the feeling that people have when they walk into the office, what guides how they act with colleagues, and what is believed to be right and wrong.
When a company's culture promotes harmful and maladaptive behaviours through these unspoken rules, it is toxic. Employees not only feel this toxicity at work, but it can also seep into their personal lives throwing their work life balance off kilter. Negative cultures drive poor performance and a high turnover rate in the same way as a positive cultures drive higher performance.
Click the following link to learn about our organisational culture change consulting service.
Staff burnout
There is a lot more discussion recently about staff burnout, employees being overworked and its connection to high labour turnover. Mental health and well being are topics of substantial concern and individuals are now more conscious of looking after themselves, let alone having an expectation that organisations will also look after them. Burnt out employees are reported to be 2.6 times more likely to leave, and 63% more likely to take sick leave (Moss. J., "Burnout is about your Workplace, not your People", Harvard Business Review, December 11, 2019). So a key to reducing turnover is to ensure employees are not overworked in a certain period.
How to cultivate a healthy company culture where people want to be?
In Keogh's whitepaper "Cultivate by Keogh: An Overview" we discuss the various steps in developing your organisation's culture. We know a strong high performing culture with a focus on people flourishing will assist in reducing high staff turnover. The following steps will enable you to cultivate that type of culture. Recognise that culture development by its very nature tends to be a long term project that will pay dividends.
Discovery: Firstly, you need to understand your culture clearly and how most employees experience it. Ideally a quantitative (survey) and qualitative (focus groups) approach provides the depth of information required to really understand your culture.
Imagine and Design: Next, you need to be clear on where you want the culture to be in the future and don't take short cuts. Culture and strategy go hand in hand and leaders need to be engaged and clear about how they behave and model what is required to create the desired future culture.
Commit and Plan: The executive team need to be aligned and a plan for the development of the culture put together after consultation and transparent communication with employees. Many organizations fail to recognise that the company's mission to enhance culture is strongly supported by over communicating.
Implement and Review: Implementation of the culture plan by an executive team that clearly owns it is then complemented with regular employee feedback to ensure the activities implemented are creating the desired outcomes. Listen to employee and be prepared to change for the better.
Purpose
I've consulted to many organisations over the years and I regularly hear employees saying they just want to know where the organisation is going and what it stands for. A strong, bold and authentic purpose can be the spark that people need to ignite their commitment to an organisation. When people are proud to stand by an organisation that is contributing positively for the wider environment, turnover intentions will likely fall.
Build connection
Connection between one employee and another or with a specific manager or in a team is vital in generating a working environment that is based on trust. High trust is central in greater productivity, less stress, more engagement and greater employee satisfaction (Keogh Whitepaper, 2022)
Power imbalances between leaders and employees, is a symptom of company culture and the hierarchical nature of organisational structures. To break down these barriers, leaders should role-model vulnerability and have meaningful conversations, which will create opportunity for employees to talk more openly. These conversations should be regular and ongoing. If leaders are able to uncover what employees are seeking out of their work, through open and honest conversations, then they can appeal to those motivations.
Employees who perceive their leader to be listening to them are likely to have positive emotions in response. Research shows that leaders who acknowledge and actively listen to their employees can see positive outcomes in regard to their employees proactive behaviour at work and greater intentions to stay (Lloyd et al., 2015).
Facilitate support
Job satisfaction for employees is underpinned by having autonomy and social support in the working environment. To put it simply, when employees feel like they control how or when their job gets done and they feel like they can count on others around them, they are more likely to be satisfied with their role.
Yousaf et al. (2015) investigated two forms of commitment and their effect on turnover intentions. The research replicated previous findings that as organisational commitment went up, organisational turnover intentions went down. So consider how to create greater commitment by employees when working on reducing turnover.
Be adaptive
Growth opportunities in the form of professional development in the workplace is an important element in building and positioning business for future success. The higher the number of employees with strong skills the better the organisation will be positioned for the future. Learning and development is also very important to many employees and a 2020 Gallup report found that organisations that made strategic investment in employee development were twice as likely to retain talent.
Interestingly, a combination of low perceived career opportunity within an organisation and high levels of organisational support for development is related to a greater likelihood of turnover (Kraimer et al., 2011). In other words if employees feel they have less career opportunities over a given period, this has a negative impact on turnover even though the organisation may invest in development. Reducing a high turnover rate requires both career opportunities and development.
Reduce employee turnover
If you have high turnover on an ongoing basis and you want to reduce costs in your organisation, then think of enhancing your culture. Cultivate a high performance, people centred culture, that will position you for a successful future. Connect with us and we can support your desire to adapt your organisation's culture in a meaningful way.